Common Core State Standard
SL.CCS.1/2/3/4 Grades 6-12: An essay of a current news event is provided for discussion to encourage participation, but also inspire the use of evidence to support logical claims using the main ideas of the article. Students must analyze background information provided about a current event within the news, draw out the main ideas and key details, and review different opinions on the issue. Then, students should present their own claims using facts and analysis for support.
FOR THE WEEK OF AUG. 02, 2010
What online 'facts' can you trust? Don't let Google be your guide to credibility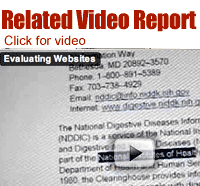 While journalists use the Internet for background and fact checks, they mainly get information directly from primary sources rather than second-hand research. Show a primary source in an article.

Would you cite a news article in a term paper or other research report? List factors that make daily papers a trusted information source.

Find an example of content that presents viewpoints and opinion, not "straight news." Either can be used in school projects, if labeled properly.
Here's a good thing about the Internet that also can be a bad thing: Online information makes research for school easy . . . and risky. (By the way, that's called a paradox -- a statement that seems to contradicts itself. It's pronounced pa-RAH-docks.) Two new campus studies cite the hazards of web research for homework, business use, medical tips or other purposes. The takeaway: Check carefully to assure sources are credible and reliable.
Although a prominent spot in search engine results doesn't automatically signal believability, Northwestern University researchers found that a majority of college freshmen click on the first search result no matter where it's from. More than 25 of the 102 students surveyed said they always choose the top result. "In some cases, the respondent regarded the search engine as the relevant entity for which to evaluate trustworthiness, rather than the website that contained the information," says the Illinois university's study, published in the International Journal of Communication.
In a University of Southern California study issued two weeks ago, large percentages of Internet users say they distrust online information. Sixty-one percent believe half or less of online information is reliable -- the lowest level since the Digital Future Project began nine years ago at the Annenberg School for Communication and Journalism at the Los Angeles university. Fourteen percent of respondents say only a small portion or none of the information online is reliable -- a percentage that has grown for the past three years.
Skepticism may flow partly from the growing number of sites or "articles" posted by companies pushing products, services or promoting online content. As the video below suggests, some health or fitness advice comes from businesses that are aren't necessarily as reliable as sites compiled by a government agency, hospital or medical association.

Study leader says: "Just because younger people grew up with the Web doesn't mean they're universally savvy with it." -- Eszter Hargittai, Northwestern U. associate professor of communication studies

Wikipedia popularity: "Convenience drives Wikipedia use in a world where credibility is less of a given -- or an expectation from students -- with each passing day." -- University of Washington study

Researcher says: "This [annual] survey is identifying growing concern about reliability of the technology and user trust in it." -- Jeffrey Cole, Center for the Digital Future, University of Southern California
Front Page Talking Points
is written by Felix Grabowski and Alan Stamm for NIEonline.com, Copyright 2017
We welcome comments or suggestions for future topics:
Click here to Comment
Front Page Talking Points Archive

Department stores and malls may be an endangered species as more of us shop online

Trump dismissal of FBI director James Comey will have long-lasting political and maybe legal fallout

'Smart driving' apps keep new motorists safety-conscious and keep parents more at ease

Symbolic benchmark: President Trump and others look at his first 100 days in office

Bleached-out coral, a climate change sign, alarms scientists for a second straight year

Reusable rockets save money and are likely to open a new era in space

Rhetoric and reality: Coal industry 'recovery' may be easier said than done

Upcoming repeal of federal Internet privacy safeguards will affect us all

Modern dinosaurs? Sears and Kmart, old school retail chains, may be doomed

President's budget starts debate over proposed military boost and deep cuts elsewhere

Complete archive