Common Core State Standard
SL.CCS.1/2/3/4 Grades 6-12: An essay of a current news event is provided for discussion to encourage participation, but also inspire the use of evidence to support logical claims using the main ideas of the article. Students must analyze background information provided about a current event within the news, draw out the main ideas and key details, and review different opinions on the issue. Then, students should present their own claims using facts and analysis for support.
FOR THE WEEK OF DEC. 13, 2010
Xbox Kinect is a hot holiday gift; new games also aim at Wii and PS3 players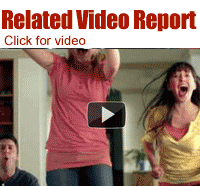 Spot a holiday theme article or column about an event, business or act of generosity.

Look for a photo, ad or story about a gift you'd like to get or give.

Find coverage of volunteers or charities that brighten this season for those in need.
One of this month's hot presents isn't spelled the way teachers approve -- but Microsoft's Kinect videogame controller is about motion-sensing, not spelling tests. It eliminates buttons and any hand-held device because your body becomes the controller as you jump, punch, spike and dance your way across a wide-ranging group of games. Kinect is sold alone for those with an Xbox 360 and is packaged with new systems, which business-watchers say are moving faster this holiday season than the Nintendo Wii or Sony PS3 with a new cordless Move handset. The futuristic Kinect uses an infrared emitter and camera to track gamers' movements, and Microsoft says it expects to sell 5 million worldwide by Christmas. Among popular all-ages games for the new entry are "Dance Central" (bust a move), "Kinectimals" (pet a wild cat) and "Kinect Sports (six competitive activities).
This roundup focus on electronic games because they're played in two-thirds of American households, according to the Entertainment Software Association. So stores also display new releases for users with Nintendo or Sony setups. "Gran Turismo 5" for PS3 is a hyper-realistic auto racing game that has taken nearly five years to finish. "TV Superstars" for PS3 with Move is a party game that lets players compete in a cooking, fashion or home improvement reality show.
Wii fans can beg for "Donkey Kong Country Returns," an old-school side-scrolling adventure game, or "Kirby's Epic Yarn," another adventure romp with a fabric-based graphical style where buildings and enemies unravel and unzip, or "Sonic Colors" with Sonic the Hedgehog. Speaking of old school, "Super Mario All-Stars" is released this week for Wii with four games from the original Nintendo Entertainment System that your teacher or parents probably played.
Lastly, this one for dads, moms and younger players is available for Xbox 360, PS3 and Wii: "NBA Jam," an arcade basketball game upgrade with crazy dunks and cartoonish graphics.
Game consoles and media aren't the only gifts that'll be used all year. Related necessities include charging stations, a handy way to power up controllers and a tidy place to store them. Choices are the Xbox 360 Quick Charge Kit from Microsoft, the PlayStation Move Charge Station Quad from Nyko and the Wii Energizer Flat Panel.

Blogger says: "Kinect is a whole new experience. . . . Having Kinect hooked up means you can control some of your Xbox 360's functions with voice commands and gestures. It's cool to play." -- Eric Wittmershaus, The Press Democrat in Santa Rose, Calif.

Retailer says: "It used to be that video games and consoles were given only to kids, but today those gifts can just as likely be for entire families, moms, dads and even grandparents. The average age of gamers continues to increase." -- Bob McKenzie, senior vice president of GameStop chain

Tech writer says: "The Wii is a victim of its own success. It so completely redefined what games could be and how they could be played that it will be hard for Nintendo to get lightning to strike twice." -- Victor Godinez, Dallas Morning News
Front Page Talking Points
is written by Alan Stamm for NIEonline.com, Copyright 2017
We welcome comments or suggestions for future topics:
Click here to Comment
Front Page Talking Points Archive

New evidence of huge stars colliding long ago excites astronomers

'What Happened:' Hillary Clinton revisits Campaign '16 in her book and national tour

'Democracy on the line:' Supreme Court considers what's legal when politicians redraw election district maps

As Puerto Rico struggles after devastating hurricane, Trump feels backlash about pace of help

Another climate change impact: Solidly frozen Alaskan permafrost is thawing

Scientists urge changes to ease impact of what flows down the Mississippi River into the Gulf of Mexico

Eye-opening new book explores how phones and tablets affect 'today's super-connected kids'

As Houston works to recover from hurricane, possible role of climate change is studied

New approach for a persistent, costly U.S. challenge: What to do in Afghanistan?

Volley of threats between North Korea and U.S. cool down after tense exchanges

Complete archive