Common Core State Standard
SL.CCS.1/2/3/4 Grades 6-12: An essay of a current news event is provided for discussion to encourage participation, but also inspire the use of evidence to support logical claims using the main ideas of the article. Students must analyze background information provided about a current event within the news, draw out the main ideas and key details, and review different opinions on the issue. Then, students should present their own claims using facts and analysis for support.
FOR THE WEEK OF FEB. 14, 2011
Intense media spotlight keeps global eyes on Egypt at critical time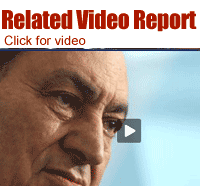 Look for coverage of developments in Egypt. Discuss or list what emotions and questions you'd have if you were a student there now.

Read an editorial or opinion column about Egypt's transition or its impact on this country. Is the viewpoint mainly hopeful, fearful or cautious?

See if you spot comments by Egyptians living or studying in the United States. Do any sound eager to go back?
This week is the first of a new era in Egypt, where an 18-day mass protest movement ended 30 years of military dictatorship. Heavy print, TV and online attention worldwide to demonstrations that began Jan. 25 added pressure that led President Hosni Mubarak to leave office last Friday (see video below). Now people in Egypt -- as well as in the United States, Israel and elsewhere -- hope continuing media scrutiny helps assure a smooth, open transition to fair elections. "Egyptians have made it clear that nothing less than genuine democracy will carry the day," says President Obama.
A spokesman for Egypt's military, in charge for now, quickly promised "a peaceful transition of power . . . for building a free democratic state." State-run newspapers and broadcast stations, which earlier criticized and ridiculed protesters, have done a dramatic flip. Al Ahram, a leading Cairo paper, saluted a social media site used by protesters: "The Facebook revolution toppled Mubarak and the symbols of the regime," the newspaper said, describing the site as the "command council headquarters of the revolution."
That doesn't seem like an exaggeration, judging from a protest coordinator's comment to CNN. "I want to meet Mark Zuckerberg [Facebook founder] one day and thank him," said Wael Ghonim, a young Google executive in Cairo who set up a Facebook page that spread protest news and expanded support. After being detained 12 days, he become a chief face of the revolution. "If you want to liberate a society, just give them the Internet," he said after Mubarak's fall. "If you want to have a free society, just give them the Internet. The reason why is that the Internet helps you fight the media war." Ghonim says he'll write a book called "Revolution 2.0" about social media's impact on political activism.
Ghonim also thanks outside news media for aiming a spotlight on Egypt. "You guys have played a great role in saving the lives of hundreds if not thousands of people," he told Wolf Blitzer on CNN. "You guys deserve a great recognition from the Egyptian people and we are not going to forget your role. You guys are heroes as well. You are part of the revolution."

Cairo activist says: "This revolution started online. This revolution started on Facebook. . . . The Internet helps you fight the media war." -- Wael Ghonim, Google executive who helped organize protests

Media critic says: "Cutbacks in foreign coverage at many news organizations [mean that] we see the Middle East on television only when it flares up and then generally in medium or long shot." -- Frank Rich, New York Times columnist

Cairo blogger says: "The fact that everything was very organized [online] from the beginning made people feel safe and more willing to participate. For example, there were maps to the protest locations and how groups should move and who should be in the front row. This gave some sense of safety for the participants. In other words, it was not a random or spontaneous upheaval." -- Dalia Ziada, human rights activist
Front Page Talking Points
is written by Felix Grabowski and Alan Stamm for NIEonline.com, Copyright 2017
We welcome comments or suggestions for future topics:
Click here to Comment
Front Page Talking Points Archive

New evidence of huge stars colliding long ago excites astronomers

'What Happened:' Hillary Clinton revisits Campaign '16 in her book and national tour

'Democracy on the line:' Supreme Court considers what's legal when politicians redraw election district maps

As Puerto Rico struggles after devastating hurricane, Trump feels backlash about pace of help

Another climate change impact: Solidly frozen Alaskan permafrost is thawing

Scientists urge changes to ease impact of what flows down the Mississippi River into the Gulf of Mexico

Eye-opening new book explores how phones and tablets affect 'today's super-connected kids'

As Houston works to recover from hurricane, possible role of climate change is studied

New approach for a persistent, costly U.S. challenge: What to do in Afghanistan?

Volley of threats between North Korea and U.S. cool down after tense exchanges

Complete archive