Common Core State Standard
SL.CCS.1/2/3/4 Grades 6-12: An essay of a current news event is provided for discussion to encourage participation, but also inspire the use of evidence to support logical claims using the main ideas of the article. Students must analyze background information provided about a current event within the news, draw out the main ideas and key details, and review different opinions on the issue. Then, students should present their own claims using facts and analysis for support.
FOR THE WEEK OF SEP. 19, 2011
Government wants tighter online privacy safeguards for pre-teens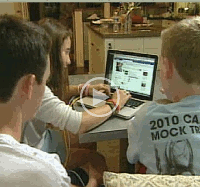 Find a technology article, review or ad of interest and tell why it's appealing.

Spot a photo or coverage of anything else pre-teens can't use or do -- at least not without parents.

Look for an age rule at the registration page for interactive forums or reader responses at this paper's site.
National regulators, trying to keep pace with technology advances, wants to tighten privacy rules for computer users under 13. Proposed changes to a law called the Children's Online Privacy Protection Act focus on parental notice, the definition of personal data, security safeguards and other areas. When adopted after comments this fall from businesses, parents, educators and safety advocates, the new Federal Trade Commission rules would cover news and entertainment sites, social media, fan clubs and any other website that gather information through registration or contest entries.
Site operators would have to post clear notices and get parental OK before collecting information from children, offer more ways to obtain that consent in writing, and prove they can protect children's personal information. The government also wants to expand the definition of personal information' to include geographic location and "tracking cookies used for behavioral advertising." That refers to codes identifying computers or handheld devices, which let firms target offers based on sites visited. Changes don't cover teens, as some groups had suggested.
Youngsters actually would get a bit more freedom under the pending new rules, which say children can take part in social media, chat rooms and forums without parental consent as long as the operators keep all or nearly all personal data from being made public. Even though Facebook and other interactive sites say users must be older than 13, the age limit is widely ignored. More than 7.5 million under-13s are active users of Facebook, Consumer Reports magazine estimated in June. That group includes more than 5 million younger than 10, according to the respected publication.

Official says: "In this era of rapid technological change, kids are often tech-savvy but judgment poor." -- Jon Leibowitz, chairman of Federal Trade Commission

Facebook says: "Reports have highlighted just how difficult it is to implement age restrictions on the Internet and that there is no single solution to ensuring younger children don't circumvent a system or lie about their age. We appreciate the attention that these reports and other experts are giving this matter." -- Company statement, May 2011

Senator says: "These newly updated rules are necessary to keep pace with the way kids under 13 are interacting on the Internet and how online services are evolving." -- Sen. John Kerry, D-Mass.
Front Page Talking Points
is written by Alan Stamm for NIEonline.com, Copyright 2017
We welcome comments or suggestions for future topics:
Click here to Comment
Front Page Talking Points Archive

A starting whistle blows this week for holiday shopping online and in stores

Get used to cars without drivers because they're starting to roll out of labs and onto streets

Congress pushes social media firms to block foreign election mischief on their influential sites

'Reckless, outrageous and undignified:' 3 Republican senators and an ex-president speak out about Donald Trump

New evidence of huge stars colliding long ago excites astronomers

'What Happened:' Hillary Clinton revisits Campaign '16 in her book and national tour

'Democracy on the line:' Supreme Court considers what's legal when politicians redraw election district maps

As Puerto Rico struggles after devastating hurricane, Trump feels backlash about pace of help

Another climate change impact: Solidly frozen Alaskan permafrost is thawing

Scientists urge changes to ease impact of what flows down the Mississippi River into the Gulf of Mexico

Complete archive