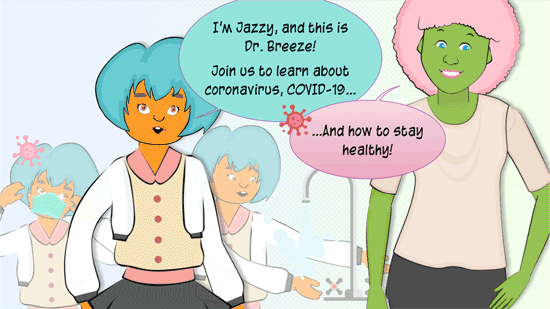 The Coronavirus Learning Companion helps students to better understand the purpose and science behind COVID-19 public health recommendations to stay healthy. Friendly comic style stories help teachers and parents initiate discussions of why social distancing, wearing face masks, and hand washing will prevent infection and the spread of coronavirus. Story 1, Coping with COVID-19, is offered as a video or downloadable PDF. The other stories and the activities to go with them are offered as downloadable PDFs.
---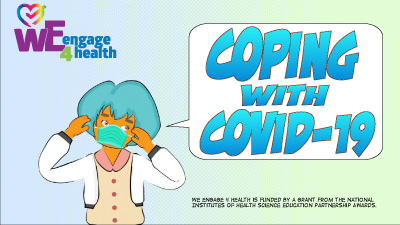 Story 1: Coping with COVID-19
Jazzy visits her doctor via telemedicine. Jazzy learns about the novel coronavirus, the COVID-19 disease it causes, and why hand washing, social distancing, and face masks help keep more people healthy. The story offers a fact-based, but reassuring approach to sharing this essential information.
Play video version of Coping with COVID-19:
---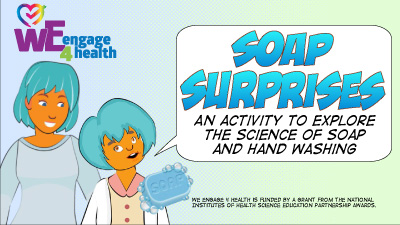 Story 2: Soap Surprises
Jazzy and her mom do an experiment to find out if soap really is such an important part of washing coronavirus, and any other germs, off our hands. Instructions for the activity follow the story so readers can try it themselves.
---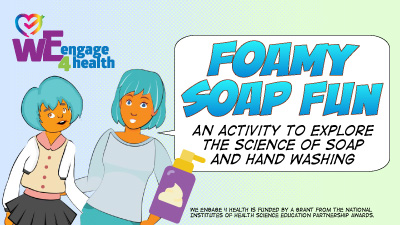 Story 3: Foamy Soap Fun
Shaving cream is really just foamed up soap and can be used to make colorful prints on paper by adding food color to the shaving cream. Instructions for the activity follow the story so readers can try it themselves.
• Download the Story and activities
• Download Coronavirus Learning Companion Knowledge and Self-Efficacy Questions
AUTHORS & SPONSORS
The Coronavirus Learning Companion was developed by the We Engage 4 Health Project (WE4H) and is located on their website, https://weengage4health.life/. WE4H is an academic-community partnership between Cincinnati Children's Hospital Medical Center (CCHMC), University of Cincinnati, Miami University Center for Chemistry Education, and Seven Hills Neighborhood Houses in Cincinnati Ohio's West End neighborhood.
WE4H is supported by the Science Education Partnership Award (SEPA) Program of the National Institutes of Health (NIH) award number R25GM129808. Contents are solely the responsibility of the authors and do not necessarily represent the official views of the NIH. For more information about the SEPA program, visit nihsepa.org.