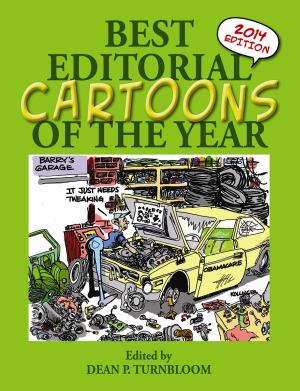 Draw Your Own Conclusions!
Cartoons for the Classroom Caption Contest
for November 13, 2017 to November 26, 2017
Study the drawing below and come up with your own caption.
On November 26, 2017 we'll award a copy of the Best Editorial Cartoons of the Year: 2014 Edition to the student who submits the best caption for this cartoon.
►Download a printer-friendly version of this blank cartoon here.
0 captions have been submitted for this cartoon
Thank you Sponsors!
---
Ace Fence & Supply
Allergan
Bird-Kultgen Ford
Brotherhood of Electrical Workers
DuPuy Oxygen
Fallas Automation, Inc.
Family Health Center
Fitzhugh Insurance & Bond
Healer Printing & Office Supply
NeighborhoodWorks Waco
Northern & Nye Printing & Office Supply
Schmaltz Sandwich Shoppe
Starry Counseling
Stone Payroll Plus
Talon Asset Management, LLC
Tejas Logistics System
Texas Sports Hall of Fame
Texas State Technical College
The Carlson Law Firm
The Dwyer Group Inc.
The Phoenix Ballroom
United Way
Vanguard College Preparatory School