Common Core State Standard
SL.CCS.1/2/3/4 Grades 6-12: An essay of a current news event is provided for discussion to encourage participation, but also inspire the use of evidence to support logical claims using the main ideas of the article. Students must analyze background information provided about a current event within the news, draw out the main ideas and key details, and review different opinions on the issue. Then, students should present their own claims using facts and analysis for support.
FOR THE WEEK OF MAY 19, 2014
Leisure time book reading isn't a joy for most teens, study shows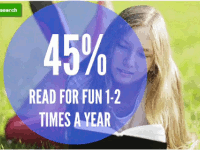 What benefits of reading books for fun can you list?

Look for an article mentioning a book, author or library and summarize the topic in two sentences.

Find coverage of a different leisure activity and list reasons why you usually do – or don't – prefer it over reading.
In an age of texting, social media and other online activity, it's no surprise that teens read fewer books for fun than in past decades. A new national study shows how far unassigned book reading has fallen. A San Francisco education and technology-monitoring group called Common Sense Media says 45 percent of 17-year-olds and one-third of 13-year-olds read for pleasure only once or twice a year. Just over one-quarter say they never read for fun -- more than twice as high as that figure was in 1984.
Girls at that age are more likely than boys to read daily as a leisure activity -- 30 percent to 18 percent. The researchers consider e-readers and audio books as equivalent to paper versions. All count as reading. "Reading used to mean sitting down with a book and turning pages as a story unfolded. Today it may mean sitting down with a screen and touching words to have them read aloud," says the report issued last week.
But the ease of quick communications can make plowing through a book seem like a chore. "Technology makes us a lazy society," says Christa Thompkins, an English teacher at North Brunswick High in Leland, North Carolina. One of her students, who recently did a research paper titled "Read for Influence," is quoted by the local newspaper on this topic. "I feel as if reading is slowly becoming irrelevant," says Tiye Cheatham, who'll attend North Carolina Central University in the fall. "In today's modern world, it seems as if there is no desire in young adults to read." She's an exception who enjoys historical romances and thrillers, such as books by James Patterson and Janet Ivanovich.

Student says: "I don't really read for pleasure. Generally I talk on the phone. Or I watch Netflix shows, or Hulu shows, mostly TV." -- Jamahri Sydnor of Wilson High in Washington, D.C.

Author says: "Graphic novels are among the hottest trends in children's publishing, and they can get kids hooked on reading." – Regan McMahon, children's book reviewer

Columnist says: "Books are personal, passionate. They stir emotions and spark thoughts in a manner all their own." – Frank Bruni, New York Times
Front Page Talking Points is written by Alan Stamm for NIEonline.com, Copyright 2021
Front Page Talking Points Archive
►Launch of giant Webb Telescope will let astronomers study planets beyond our solar system
►Pig kidneys can work in humans, surgeons show – promising news for those needing transplants
►Global leaders voice urgency as they discuss climate change at a UN conference
►Get used to 'Meta,' a new name for the company behind Facebook, Instagram, WhatsApp
►A toymaker and a state show sensitivity to how playtime can create and reinforce gender stereotypes
►Climate change: Rising seas could imperil major cities in U.S. and around the world
►Latest Postal Service changes mean some longer delivery times and holiday season package surcharges
►Extinct species: List of vanished U.S. animals and plants gets longer
►Arizona recount shows Biden won, but claims of 'stolen election' continue
►It's time for a yearly flu shot, now even more important than before the Covid pandemic