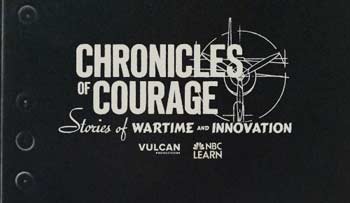 The "Chronicles of Courage" series draws on social studies as well as science, technology, engineering and math concepts, while aligning to state and national education standards. Lesson plans developed by the National Science Teachers Association and NBC Learn are available for high school and middle school students.
Chronicles of Courage: Women Airforce Service Pilots
With thousands of men fighting in World War II, women are offered jobs in fields that had not previously been available to them, including aviation. Bernice "Bee" Falk Haydu and Dawn Rochow Balden Seymour join a civilian program called the Women Airforce Service Pilots, or WASPs. The WASPs perform a number of military tasks, including ferrying planes and helping train machine gunners in ballistics.
---
Chronicles of Courage: Tuskegee Airmen
With World War II looming, the first African-American pilots are admitted into the U.S. Armed Forces. Fighter pilots Robert Friend and William Holloman fly their North American P-51 Mustangs as they bravely escort bomber planes across enemy lines while still facing social injustice in the military and at home.
---
Chronicles of Courage: F6F Hellcat
In 1944, the United States Navy's Fast Carrier Task Force navigates towards victory in World War II. Navy Pilot Robert Turnell launches his newly designed Grumman F6F Hellcat from the decks of the USS Wasp, and fights against the legendary Japanese Mitsubishi A6M Zero.
---
Chronicles of Courage: B-17 and the Ball Turret
At the height of World War II, Allied bombing missions often include hundreds of Boeing B-17 Flying Fortresses that strike deep behind enemy lines. Gunner Mason Howe survives these harrowing missions while operating one of the plane's most innovative defenses: the ball turret gun.
---
Chronicles of Courage: The Doolittle Raid
Only months after the Japanese attack on Pearl Harbor, famed pilot James Doolittle leads a top-secret mission to bomb Japan. Richard Cole co-pilots the first of a group of 16 North American B-25 Mitchell bombers that launch from an aircraft carrier – a feat never before achieved in combat.
---
Chronicles of Courage: P-47 and the Double Wasp Engine
In 1943, the Allies struggle to get a foothold in Europe. Fighter pilot Benjamin Cassiday, Jr. flies his Republic P-47 Thunderbolt against deadly German planes. The P-47's mighty engine, the 18-cylinder Pratt & Whitney R-2800 Double Wasp, helps provide Cassiday with the power he needs to defeat the enemy in the skies.
---
Chronicles of Courage: Flying Tigers
The Japanese attack on Pearl Harbor on December 7, 1941 launches America into World War II. Just weeks after the attack, a small group of American volunteer pilots known as the Flying Tigers use their Curtiss P-40 Tomahawks to score some of the first U.S. victories against the Japanese in China. Pilot Tex Hill is one of the squadron leaders.
---
Chronicles of Courage: Flying the Beam
After a bloody battle with Japan, U.S. forces gain control of the island of Iwo Jima in the Pacific Ocean, turning it into an important American airbase. From there, U.S. fighter pilot Jerry Yellin escorts bomber planes on long, dangerous raids to Japan in his North American P-51 Mustang with help from a primitive navigation system using Morse code.
---
Chronicles of Courage: P-47 and the Turbo Supercharger
On June 6, 1944, Allied forces begin the D-Day invasion of Normandy to liberate Europe from the Nazis. Fighter pilot Archie Maltbie provides cover for Allied troops in his Republic P-47 Thunderbolt, a tough American plane known for its innovative turbo supercharger.
---
Chronicles of Courage: Pearl Harbor
On December 7, 1941, the Empire of Japan launches a surprise attack on the U.S. military stationed at Pearl Harbor, Hawaii. Stuart Hedley is a sailor on the USS West Virginia and witnesses the horror of the attack firsthand.
---
Distributed by NIEonline.com with permission
About Vulcan Productions
Vulcan Productions is dedicated to the power of storytelling. We produce content and large-scale campaigns that entertain, electrify and change the way people understand the world's toughest challenges. Our films, television series and digital content spark ideas and turn action into measurable impact. Founded by Paul G. Allen, Vulcan Productions creates content across all platforms, extending the wide-ranging work of Vulcan Inc. in wildlife, science, climate, oceans, education, technology, current social issues, history and the arts. Our award-winning projects include The Ivory Game, Racing Extinction, Naledi: A Baby Elephants Tale, Academy Award ® -nominated Body Team 12, Mind of a Giant, We the Economy, We the Voters, Ocean Warriors, #ISurvivedEbola, Girl Rising and The Blues. For more information, visit vulcanproductions.com.
---
About Flying Heritage Collection
The aircraft in the Flying Heritage Collection are rare treasures of military aviation — a testament to the era's engineering skill and humanity's spirit during the world conflicts of the 20th century. On rotation in our working hangar are military artifacts from the United States, Britain, Germany, Soviet Union and Japan, acquired by Paul G. Allen and restored with unparalleled authenticity to share with the public. FHC is operated by Friends of Flying Heritage, a 501(c)(3) organization committed to educating people about these rare historic aircraft and artifacts. The collection is currently experiencing rapid growth, bringing in exciting new wonderslike the Republic F-105 Thunderchief, de Havilland Mosquito and more.
---
About NBC Learn
NBC Learn is the educational arm of NBC News dedicated to providing resources for students, teachers, and lifelong learners. The online resources NBC Learn has created for the education community leverages nearly 80 years of historic news coverage, documentary materials, and current news broadcasts. Currently two offerings, NBC Learn K12 and NBC Learn Higher Ed, give students and teachers access to thousands of video clips from the NBC News archives, including great historic moments--from the Great Depression to the Space Race to the latest political coverage. NBC Learn also offers primary source materials, lesson plans and classroom planning resources, and additional text and image resources from our content partners. For more information, visit www.nbclearn.com.
---
Additional Resources