Your students live in a digital world. Connect with them using technology in a relevant way to enhance your existing curriculum. The eEdition is an exciting teaching resource that's easy for students and teachers to use! The eEdition provides FREE daily access to the interactive edition of The Dallas Morning News -- an innovative way to teach using technology as well as local news and current events. Using computers from home or at school in classrooms, libraries or labs - students can access not only the daily edition of The Dallas Morning News, but also a FREE 30-day archive of past eEditions plus interactive activities, quizzes and videos. Lessons are updated weekly and focus on what's covered in the news!
The eEdition is a free, online teaching tool that connects the digital generation to lessons from today's world. Use it to help your students become:
Up to date on current events
Engaged with learning through technology
Familiar using online, primary source resources
Adept at identifying credible, trusted sources of information
Motivated to learn and improve their literacy skills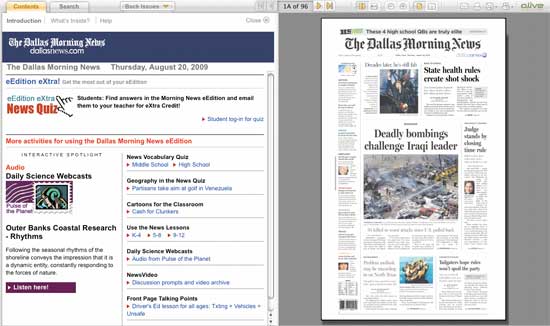 Sign-up for free access to the eEdition and use NIE's multi-disciplinary lesson plans to help you integrate technology and the eEdition into your classroom. The eEdition of The Dallas Morning News and the online lessons help you and your students meet learning objectives for:
Reading & Language Arts
Social Studies
Science
Math
Technology Skills
Media Criticism
When you register for the eEdition, your students also receive access to E-xtra, weekly exercises based on the TEKS standards. Each Monday you will receive a set of five new questions with the applicable TEKS standards in your e-mail. You will also receive your students' results each week by e-mail so you can track their progress. Try out a sample of the eEdition by clicking here.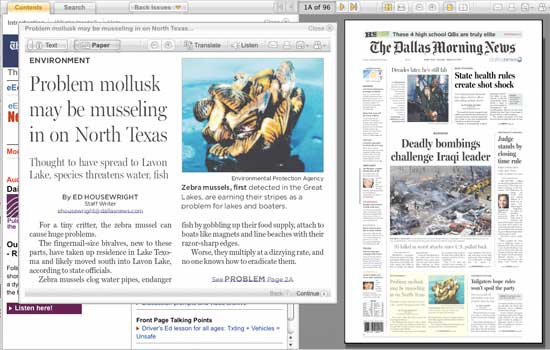 The eEdition of The Dallas Morning News engages and excites students about learning by integrating up-to-date local news and the latest current events with technology that's easy to access, simple to share and fun to navigate! Students can flip through the pages of the digital edition just like they were reading a printed copy of the day's newspaper. With the eEdition, students can:
Search for articles by page number or keyword. Keyword searches return results from the past seven days' editions.
Zoom in on articles and ads for easy reading. Adjust the font size and text format with just the click of the mouse.
Print articles or full pages for use in classroom presentations when students are off line.
Translate articles into Spanish with the click of a mouse.
Hear stories being read aloud
Access FREE integrated learning resources with enhanced multi-media support, an integrated Learning Management System and authentic social networking opportunities.
Download the whole paper or individual sections as PDF files students can reference off line without having to be on the Internet.
Email articles, pictures and ads to friends, family or teachers.
Cut and paste articles, advertisements, charts and pictures into presentation documents or word processing files.
Include links to articles within the eEdition on class Internet sites or in learning management systems.
Access an archive of 30-day's past editions.
The eEdition is an excellent interactive tool that helps you and your students meet technology and core curriculum learning objectives as well as introduce media criticism. You can use the eEdition in a variety of ways with students.
Students can work independently with the eEdition in computer labs, using mobile computer labs or from home computers.
You can project the eEdition using a projector or digital white board so the whole class can explore and read articles along with you.
Use links to eEdition articles as part of your study guides and assignments posted in Moodle, Blackboard or other learning management systems.
Email or print articles for students to read.
Register for FREE online access today. Our one-step registration allows immediate access to the eEdition and online learning resources. Register now!