Special Video Report:
Writers Speak to Kids
Courtesy:NBC Learn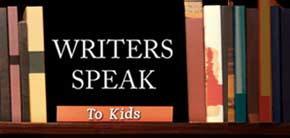 Back by popular demand the NBC Learn special collection of children's book authors sharing their writing experience to help students learn more about the craft and techniques of creative writing.
Select a video by clicking on a topic below
---
---
---
---
---
---
---
---
---
---
---
---
---
---
---
---
---
---
Distributed by NIEonline.com with permission
---
About NBC Learn
NBC Learn is the educational arm of NBC News dedicated to providing resources for students, teachers, and lifelong learners. The online resources NBC Learn has created for the education community leverages nearly 80 years of historic news coverage, documentary materials, and current news broadcasts. Currently two offerings, NBC Learn K12 and NBC Learn Higher Ed, give students and teachers access to thousands of video clips from the NBC News archives, including great historic moments--from the Great Depression to the Space Race to the latest political coverage. NBC Learn also offers primary source materials, lesson plans and classroom planning resources, and additional text and image resources from our content partners. For more information, visit www.nbclearn.com.
---
Additional Resources
NBC Learn K12