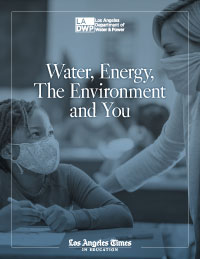 Water, Energy, The Environment and You (FOR LOS ANGELES CITY SCHOOL TEACHERS ONLY)
Sign up today for this earth-friendly program, celebrating the Los Angeles Aqueduct
Centennial, and providing students valuable insights into water and energy conservation
today - and for the future. Students also learn more about various forms of energy, green
power in L.A., and how to make smarter energy choices. Grades 4-12.
PROGRAM ALSO INCLUDES AN ART CONTEST.
Sponsored by Los Angeles Department of Water and Power
Information regarding local ordinances, rates, and water sources are accurate for LADWP customers only. If your school is not within LADWP's service area, please check with your provider for local information.
Guides available from this sponsor
---
Prior programs. Unavailable as of Fall 2018

Hitachi Teacher's Choice This newspaper-based program can be used with the electronic edition of The Times along with selected curriculum materials. Teachers will be sent one guide from the following disciplines: writing, social studies, reading or math depending on the subject matter chosen upon enrollment. Includes the opportunity to enter a poster contest. Grades 6-12.
Sponsored by Hitachi, Ltd.
Guides available from this sponsor
---

Partners In Education Ready, Set, Grow! This newspaper-based program is designed to expand your students' learning skills, as well as their goal-oriented habits in one of many disciplines. Teachers can select one lesson guide from the following subjects: writing, social studies, reading, or math! Grades K-3.
Sponsored by Partners in Education
Guides available from this sponsor