Los Angeles Department of Water and Power
STUDENT ART CONTEST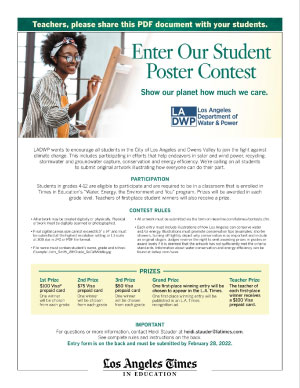 2021-2022
Art Contest Flyer
LADWP wants to encourage all students in the Times in Education program to join the fight against climate change. We hope that you already participate in efforts that help endeavors in solar and wind power, recycling, stormwater and groundwater, capture, conservation, and energy efficiency. Please create a poster showing efforts that can be made to combat climate change and enter using the form below.
Sponsored by DWP


---
Contest deadline extended to April 15
If the form below is not working, please send your submissions to TimesinEducation@gmail.com.
Be sure to include:
Your name
Your parent or guardian's name
Your age
Your grade
Your teacher's name
---
---
Los Angeles Department of Water and Power
STUDENT ART CONTEST 2020-2021 WINNERS
Click on an image to enlarge
---
---
---
---