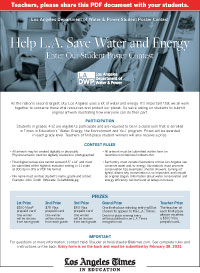 Los Angeles Department of Water and Power
STUDENT ART CONTEST
Judging in process. Winners will be announced in the coming weeks.
As the nation's second largest city, Los Angeles uses a lot of water and energy. It's important that we all work together to conserve these vital resources and protect our planet. So we're calling on all students to submit original artwork illustrating how everyone can do their part.
Prizes will be awarded in grades 4-12, plus teachers of first-place student winners at each grade level will also receive a prize. Winning students and their teachers will also be invited to an awards presentation to be held in May 2021.
Sponsored by DWP


---
Los Angeles Department of Water and Power
STUDENT ART CONTEST 2020-2021 WINNERS
Click on an image to enlarge
---
---
---
---