Common Core State Standard
SL.CCS.1/2/3/4 Grades 6-12: An essay of a current news event is provided for discussion to encourage participation, but also inspire the use of evidence to support logical claims using the main ideas of the article. Students must analyze background information provided about a current event within the news, draw out the main ideas and key details, and review different opinions on the issue. Then, students should present their own claims using facts and analysis for support.
FOR THE WEEK OF JULY 28, 2014
Federal agency warns about health risk of Alert Energy and other pure caffeine products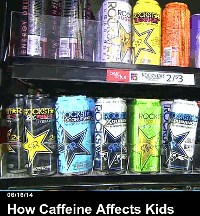 Look for a different example of an effort by local, state or national officials to protect consumers.

Find other health or fitness news and tell how it could affect you, friends or family members.

Pick coverage of a product or activity that isn't risky and tell why it does or doesn't appeal to you.
Move over, Red Bull, Monster Energy and Rock Star. Some people now use powdered caffeine as an alertness boost for studying, sports or other activities. But the potent powder -- sold online as Extreme Sport Beans, Cracker Jack'd , MiO Energy and Alert Energy -- could be risky. A teaspoon is equivalent to 25 cups of coffee. A federal warning follows the death of a healthy 18-year-old Ohio varsity wrestler who consumed the pure stimulant.
The Food and Drug Administration is investigating caffeine powder and will "consider taking regulatory action," it says. The product is marketed as a dietary supplement and is unregulated, unlike caffeine added to soda. Parents should know, the agency adds, that some teens add the powder to beverages, sprinkle it on food or chew jellybean-like Extreme Sport Beans before a gym workout or late-night schoolwork.
Some brands explain the risks. Hard Rhino's label suggests using just one-32th to one-16th of a teaspoon to avoid serious harm. "This is PURE CAFFEINE and a little goes a long way," it reads.

Government says: "The difference between a safe amount and a lethal dose of caffeine in these powdered products is very small." – Jennifer Dooren, Food and Drug Administration spokeswoman

Doctor says: "I can't believe you can buy this. . . . It's frightening. It makes no sense to me." – Dr. Henry Spiller, head of poison control center at Nationwide Children's Hospital in Columbus, Ohio

Caffeine overdose signs: Rapid or erratic heartbeat, seizures, vomiting, diarrhea and disorientation.
Front Page Talking Points
is written by Alan Stamm for NIEonline.com, Copyright 2014
We welcome comments or suggestions for future topics:
Click here to Comment
Front Page Talking Points Archive
►Federal agency warns about health risk of Alert Energy and other pure caffeine products
►Israeli response to missiles from Gaza spurs debate over media fairness and balance
►This only sounds like science fiction: Driverless cars roll closer to reality
►Surprise: Some Facebook users were in an experiment they didn't know about
►New twist in Washington Redskins team name controversy: Trademark status is at risk
►New federal student loan break puts an income-based lid on monthly payments
►Uneasy homecoming: Controversies accompany U.S. soldier's release by Taliban in Afghanistan
►Michelle Obama, speaking as a mom and as first lady, defends school nutrition rules
►Computer coding gains status as a vital part of education, even in some elementary schools
►Leisure time book reading isn't a joy for most teens, study shows