NIE Week 2013 celebrated with proclamations from Hillsborough, Pinellas and Pasco counties
Newspaper in Education Week, an initiative of the American Press Institute, is celebrated annually during the first full school week in March. NIE is honored that our partners in Hillsborough, Pinellas and Pasco counties joined us in celebrating NIE Week 2013 with proclamations of support.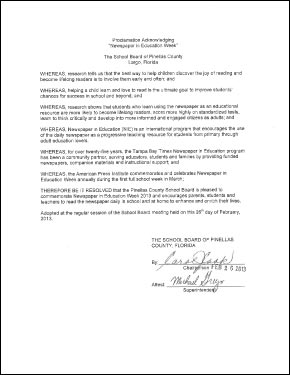 ---
NIE publications win FNAME Creative Excellence Awards
Two NIE publications were honored with creative excellence awards at the 2012 FNAME (Florida Newspaper Advertising and Marketing Executives) annual conference in Tampa September 27-29, 2012. The conference is a gathering of newspapers from across the state, along with vendors, advertisers and industry experts. In conjunction with the conference, FNAME newspapers submit creative campaigns and collateral materials and compete against each other in 3 circulation groups.
Reading with the Rays, a summer reading program produced in partnership with the Tampa Bay Rays and the Rays Foundation, was honored with a Gold Award for Creative Excellence.
►Download the publication here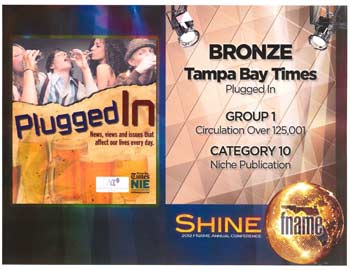 Plugged In, a publication created in partnership with DACCO, focused on drug abuse and addiction issues and geared toward college students and adults of all ages, was honored with a Bronze Award for Creative Excellence.
►Download the publication here
---
NIE and community partners team up to break the cycle of domestic violence
NIE has partnered with the Verizon Foundation, ABC Action News and six domestic violence agencies in Hillsborough, Pasco and Pinellas counties to create Breaking the Cycle of Teen Dating Abuse, an educational curriculum supplement aimed at helping preteens and teens learn the skills they need to form positive, healthy relationships and protect themselves online and offline.
Breaking the Cycle was funded by a $15,000 contribution from the Verizon Foundation, presented at a ceremony which took place at the Family Justice Center of Hillsborough County on September 18, 2012.
Read the Tampa Bay Times article about Breaking the Cycle here
NIE development specialist Sue Bedry appeared on two WFTS ABC Action News "Positively Tampa Bay" segments with CASA Peacemaker Coordinator Elyssa Broussard and Michelle Crowder-Soellner and Jakki Bavin of Sunrise of Pasco County to speak about the topic of teen dating violence and promote Breaking the Cycle.
Watch the ABC Action News Positively Tampa Bay segment about Breaking the Cycle here
---
NIE serves as case study for the Newspaper Association of America and Audit Bureau of Circulations
NIE recently was selected to serve as a case study in the Newspaper Association of America and Audit Bureau of Circulations' Guide to Verified Circulation 2012
Read an interview with NIE Manager Jodi Pushkin about the project here
View NIE Manager Jodi Pushkin's webinar on transitioning NIE from print to digital here