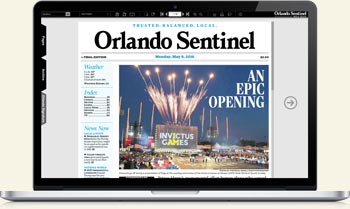 Teachers can now sign up for free copies of the Orlando Sentinel eNewspaper.
The Orlando Sentinel eNewspaper is educational, efficient, and easy to use. It makes learning fun for students by reaching them where they live – in an increasingly digital world. The eNewspaper features:
Enhanced article reading view with high-resolution photos and an article photo gallery.
The ability to crop and create clippings to share.
Download capability for offline reading.
Easy navigation from the main menu including a search function.
The option to print single or multiple pages.
Puzzles & Comics.
The eNewspaper will be delivered to your inbox Monday through Sunday.
Please complete the form below to register for your eNewspaper. After you have completed the required fields, be sure to click "Submit your order" at the bottom of the form. Please note that your eNewspaper must be delivered to your official, school-affiliated email address.