Learn to Teach With the Digital Edition.
IT'S EASY!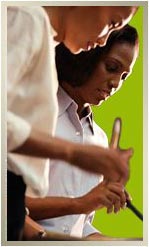 "The neat thing about the Sun Sentinel is that the news and information is available and pertinent every single day. It never fails us." — Palm Beach Gifted Teacher
The Sun Sentinel and Orlando Sentinel eNewspaper is educational, efficient, and easy to use. It makes learning fun for students by reaching them where they live – in an increasingly digital world. And, it can be easy and fun for you, too. Check out our online teacher tutorial. It gives you step-by-step directions for using the eNewspaper tools. We'll even give you suggestions for learning activities that meet state standards. Easy! Educational! Efficient! A triple winner!
Why NIE For You?
There are plenty of reasons to use the Sun Sentinel and Orlando Sentinel in your classroom, but in a nutshell:
Research has shown that students who read a newspaper increase their test scores an average of 10%*
It provides hands-on learning.
You can teach any subject using the Sun Sentinel and Orlando Sentinel, and we have the curriculum to help with that.
Sun Sentinel and Orlando Sentinel stories and articles provide excellent models for all writing skills.
It's current and one of the most effective means of spanning the "textbook" lag.
Lower-level readers don't mind being seen reading the Sun Sentinel and Orlando Sentinel.
It's a fun way to learn.
*NAA 2006
---
►Click here for FREE curriculum
►Click here for FREE teacher guides