STUDENT VOICES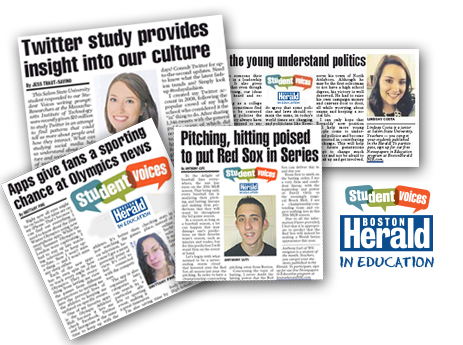 Submit student work for publication in the Boston Herald
Turn your students into real Boston Herald reporters with Student Voices! This unique writing program gives students the chance to be published in the Boston Herald. Submissions must be submitted by a teacher participating in the free Boston Herald in Education program. Not signed up yet? Subscribe here.
Submissions Deadlines:
October 31 for publication in November*
January 31 for publication in February*
April 30 for publication in May*
Writing Prompt:
Students can write an opinion article on any topic of their choice – we want to hear their perspectives. Because articles are published weeks after submission, students should choose broader topics that will still be newsworthy up to two months later. See a sample of past Student Voices articles here.
Submission Guidelines:
Responses must be 300 words or less and be sent in by a teacher participating in the Boston Herald in Education program. Not signed up yet? Subscribe for free here. Sorry, we cannot accept submissions directly from students. All submissions must be received by the designated deadline.
Please email responses to nie@bostonherald.com.
Teachers may include a photo of each writer. Please email us a copy of our Media Release Form signed by the student's parent or guardian.
Teacher Tips:
Because students can write about any topic, it's easy to integrate this activity into your curriculum. Teaching journalism? Student Voices can be integrated into journalism lessons while learning about the Op-Ed and Letters to the Editor sections of the newspaper. Refer to the Op-Ed section of the daily Boston Herald as a guide.
Questions? Contact nie@bostonherald.com or call 617-619-6223.
*Actual publication dates are approximate and may change.
©2023 Boston Herald in Education and Online Publications Inc. and NIEonline.com