Knight Writer Writing Prompt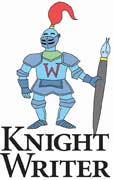 Encourage your students to write every week with Knight Writer, featuring creative writing prompts and story starters for fiction and non-fiction styles of writing using a story, ad, photo or other feature in the Denver Post .
Each worksheet refers students to the appropriate page in the newspaper, asks pertinent questions and then gives a writing topic. The "Order of the Pen" at the bottom of each page offers suggestions to help students improve their writing.
---
Four issues are linked below, to go along with the 30 days of The Denver Post available through the eEdition
Click on a title below to view the PDF.
Knight Writer Archives
The last 5 lessons:
---
View an entire year's lesson archive