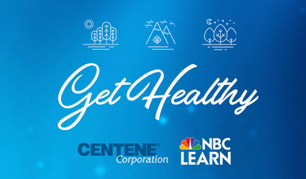 In cooperation with NBC Learn and their partner, Centene Corporation the original video series, "Get Healthy," explores fundamental ways to lead a healthier lifestyle in the New Year. Narrated by NBC News' Morgan Radford, the ten-part series demonstrate simple, yet important ways to maintain overall health and highlight vital tips for children to learn how the most important aspects of their well-being - relationships and mental and physical health - all come together to foster a positive living environment. Each video segment aligns to state and national education standards.
Get Healthy: Sugar & Salt
Chances are, you are eating too much salt and sugar. Americans tend to eat much more than is recommended. Just how much more may shock you. NBC Learn, in partnership with Centene Corporation, looks at how much salt and sugar you can eat safely, and what happens to your body when you eat too much of it.
Get Healthy: Healthy Diet
Eating a healthy diet is possibly the single most important thing you can do for your health. Do you know what and how much to eat? NBC Learn, in partnership with Centene Corporation, takes a look at which foods are essential to a growing body and what happens to the food once you eat it.
Get Healthy: Healthy Relationships
An important part of growing up is finding good friends. In fact, having at least one good friend can actually improve your health. NBC Learn, in partnership with Centene Corporation, explains what a healthy friendship looks like and how to avoid a relationship that isn't good for you.
Get Healthy: Mental Health
Being healthy means you should take care of your mind as well as your body. Emotions are a normal part of life, but if they become overwhelming and interfere with your life, it's time to take action. NBC Learn, in partnership with Centene Corporation, explains signs that you may need help keeping a healthy mind and how to get the help you need.
About NBC Learn
NBC Learn, the education arm of NBC News, provides relevant and engaging resources for students, teachers, and lifelong learners. The online resources NBC Learn has created for the education community leverages nearly 80 years of historic news coverage, documentary materials, and current news broadcasts. NBC Learn gives students and teachers access to thousands of video clips from the NBC News archives, including great historic moments – from the Great Depression to the Space Race to the latest political coverage. NBC Learn also offers Emmy-award winning original STEM content, primary source materials, lesson plans, and classroom planning resources, to enliven instructional material as well as stimulate critical thinking and debate.
About Centene Corporation
Centene Corporation, a Fortune 100 company, is a diversified, multi-national healthcare enterprise that provides a portfolio of services to government sponsored and commercial healthcare programs, focusing on under-insured and uninsured individuals. Many receive benefits provided under Medicaid, including the State Children's Health Insurance Program (CHIP), as well as Aged, Blind or Disabled (ABD), Foster Care and Long-Term Services and Supports (LTSS), in addition to other state-sponsored programs, Medicare (including the Medicare prescription drug benefit commonly known as "Part D"), dual eligible programs and programs with the U.S. Department of Defense. Centene also provides healthcare services to groups and individuals delivered through commercial health plans. Centene operates local health plans and offers a range of health insurance solutions. It also contracts with other healthcare and commercial organizations to provide specialty services including behavioral health management, care management software, correctional healthcare services, dental benefits management, commercial programs, home-based primary care services, life and health management, vision benefits management, pharmacy benefits management, specialty pharmacy and telehealth services.