Teacher Workshop
Fake News and Finding Facts: Instructional Strategies and Resources to Enhance Critical Thinking Skills
Date: Tuesday, September 11, 2018
Location: Gus A. Stavros Center, USF, College of Education, Tampa Campus
Time: 5:30 p.m. – 8:30 p.m.
In a world where hundreds, if not thousands, of online sources try to trick people into clicking on and sharing their fake news, what is an educator to do? How do you help students determine facts from fake? What are the social and economic implications of spreading fake news? Since our last workshop on Fake News in early 2017, we have been studying the phenomena and collecting resources for educators, which will be shared with workshop participants. This workshop will be appropriate for all K-12 educators, with a special focus on Social Studies, English Language Arts, and Media standards and practices.
► Click here for more details and to register. Space is limited.
Teachers: Teach with the Times and win a $15 gift card!
Educator discounts
⇒Special NIE Teacher Discount to Bouchercon 2018 World Mystery Convention, the premier annual event for readers, authors, and all lovers of crime fiction.
Click here for more information
How to Teach with the Times
Learn from the pros – innovative ways to use the newspaper in the classroom from Tampa Bay Times Newspaper in Education teachers
NIE Teacher of the Year award
This award recognizes teachers, literacy coaches and media specialists who advocate for literacy and civic learning through the use of the Tampa Bay Times and NIE resources.
The 2019 contest will open for entries Nov. 13, 2018 – Feb. 28, 2019.
Previous grand prize winners:
2018 – Elizabeth Crawley, Seminole High School
2017 – Cynthia Bowen, Carwise Middle School
2015 – Tracey Keim, St. Petersburg High School
Important websites
The Tampa Bay Times = Informational text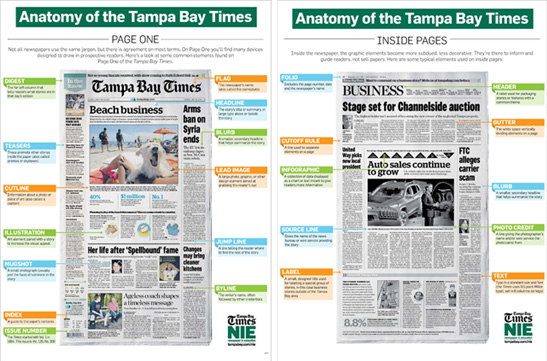 Informational text can be seen as a type of nonfiction. The characteristics of informational text are that it:
⇒ Conveys information about the natural or social world;
⇒ Is written from someone who knows information to someone who doesn't
⇒ Has specialized features such as headings and technical vocabulary.
Resources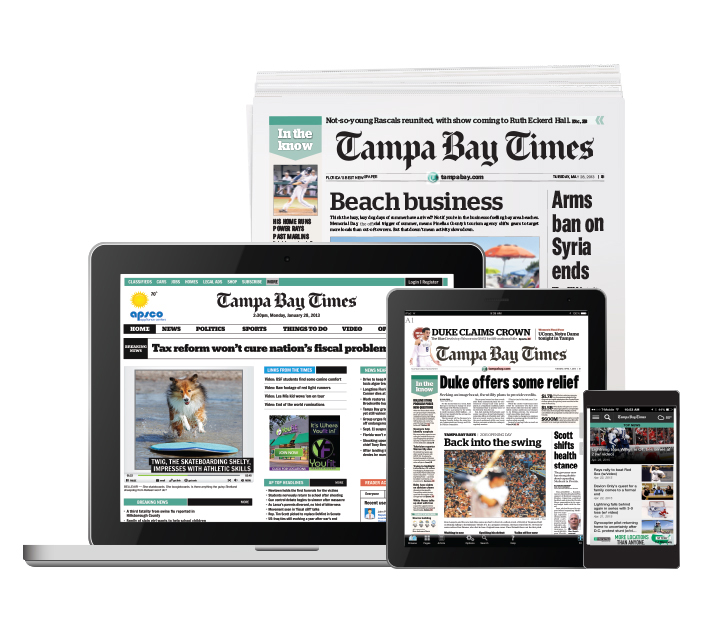 Digital Edition
Click here for Digital Edition instructions
Informational text
The terms "informational text" and "nonfiction" are often considered synonyms and used interchangeably. However, these types of texts are not the same. According to Scholastic Magazine, "Informational text is a type of nonfiction — a very important type. Nonfiction includes any text that is factual. (Or, by some definitions, any type of literature that is factual, which would exclude texts such as menus and street signs.)
Informational text differs from other types of nonfiction in purpose, features, and format." For more information about informational text, click here.
What is black and white and still read all over? Where can you find a free local source of quality writing and informational text? The answer is simple: The Tampa Bay Times.
Newspapers are an excellent source for information text. Check out this article from the Library of Congress: http://blogs.loc.gov/loc/2012/10/black-and-white-and-still-read-all-over/.
---
About Florida Standards
The Florida Department of Education defines that the Florida Standards provide a robust set of goals for every grade. Emphasizing analytical thinking rather than rote memorization, the Florida Standards will prepare our students for success in college, career and life. The Florida Standards will reflect the knowledge and skills that our young people need for success in college and careers.
Building on the foundation of success that has made Florida a national model, The Florida Standards provide a clear set of goals for every student, parent, and teacher.
For more information on Florida Standards, go to the CPALMS website. CPALMS is the State of Florida's official source for standards information and course descriptions: http://www.cpalms.org.